Check Wheels, Tires & Suspension
The engine takes a lot of credit for a car's performance, but it is the wheels, tires and suspension that keep contract between the car and the ground, making them a crucial part of getting the most out of your performance vehicle.
Benefits of Checking
Checking all three of those components regularly can help your car maintain peak performance over the years, maximizing both your car's efficiency and your enjoyment. If neglected, wheels, tires and suspension could reduce your performance or cause you serious problems down the road. If wheels become warped or distorted, they could affect your car's balance, damage the tires or limit the car's agility. Tires that are worn down not only increase your stopping distance, but decrease your car's top speed as well, while a suspension system that is out of tune will reduce both your ride comfort and the car's performance. To prevent those issues, it is vitally important to bring your car in for a regular wheel, tire and suspension check so that problems could be identified and handled early, before they cause your car harm.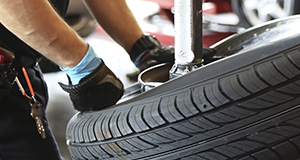 Prestige BMW Serving
Ramsey

,

Ridgewood

&

Mahwah

, NJ

985 NJ-17, Ramsey, NJ 07446
Certified Automotive Technicians
A BMW, or any other performance-oriented vehicle, is carefully designed, engineered and manufactured and it takes a mechanic just as well-trained and experienced to keep it running in perfect working order. At our service center, we have a team of professionals that have not only been certified by BMW and other manufacturers to work on their vehicles, but also have years of experience performing both repairs and maintenance on these high-end vehicles. So when you take your car in for its regular services or repairs, you can be sure that it will be handled by people who have both great professional experience and a dedication to maintaining a high standard for care for both you and your vehicle throughout your visit. A car as well-crafted as yours needs the best to take care of it, which is exactly what we offer you.
Only Quality Automotive Parts
While a car is more than the sum of its parts, no car can reach its top potential without the best available parts inside of it. That is why we stock only the best components from Original Equipment Manufacturers and use only those when performing work on your vehicle. OEM parts are made by the same manufacturer as factory parts. That means the same high-end materials and the same exacting quality tolerances as the parts that they are replacing. While there is a large ecosystem of aftermarket parts available, promising cheaper solutions or better performance, they are not as carefully manufactured as the OEM components. They use inferior materials to cut costs and are designed to fit as many cars as possible in order to appeal to a wider market. This means that they don't fit your car as well as OEM components, which are a one-to-one factory match. To achieve the best performance and reliability for all of our clients, we go the extra mile and source all OEM parts for every job we do, no matter how large or how small.